By Sandra Black
19 August 2014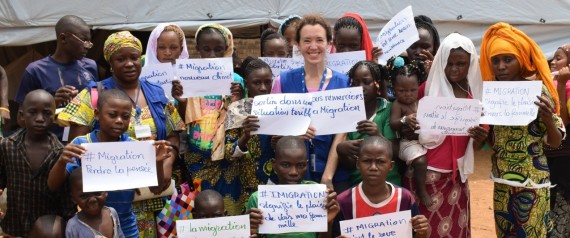 In April the International Organization for Migration provided logistic support to relocate a community of over 1,300 Muslims in Bangui, Central African Republic to the north and east of the country. They were trapped in "PK12", a one square kilometer area surrounded by Anti-Balaka militia. Attacks were frequent, and took the lives of more than 20 people including elderly, women and children. The humanitarian community decided upon the movement as a life-saving operation of last resort, involving several United Nations agencies and NGO partners.
As IOM Communication Officer I joined colleagues to cover registration, community sensitization meetings and travel preparations in PK12. Eventually, I assisted in seeing off the two 1,259 person and 93 person convoys when they left Bangui for northern and eastern CAR.
During those visits I met Idris, a 16-year-old who was separated from his family when their village was attacked. He arrived in PK12 with just the clothes he was wearing. After a week he made friends who gave him three shirts. Idris wanted to go north to join his mother and sisters. He was so grateful for the transportation assistance IOM provided. He said with an enormous smile, "May God bless these people [humanitarians] more than is possible."
World Humanitarian Day on August 19 is an opportunity to realize that our humanitarian activities, which start to feel routine, have enormous significance for those receiving assistance.
The recognition provided in World Humanitarian Day encourages humanitarian workers to push through daily logistic, operational and security challenges to provide life-saving assistance. It also reminds supporters to contribute the resources needed to make humanitarian work possible.
My communications officer position with IOM is a multifaceted adventure from interviewing Muslim families trapped at displacement sites in CAR, to photographing West African-evacuees at the airport in Bangui, to presenting at a press briefing in Geneva.
The most rewarding part of my work is the sense of fulfillment when I realize that my communications materials bring attention and resources to the crisis in Central African Republic.
During a recent assignment a man caught up in the CAR conflict said to me, "Take my picture. My family thinks I'm dead." I realize the importance of my communications work not only to bring attention to crises, but also for the beneficiaries I meet. My interview and photo requests valorize the struggle of those affected by conflict, demonstrate respect for their situation, and provide a sense of recognition for those in dire situations.
More than two million people affected by the CAR crisis are in need of humanitarian assistance. IOM's community stabilization program assists thousands to restart their economic activities. IOM feeds and shelters thousands more through displacement site coordination, but due to financial constraints cannot provide the quantity of aid requested.
Thousands of people in CAR have fled their homes, lost all of their belongings, and are now living at displacement sites. I salute their desire to move forward after losing their livelihoods and to seek peace in their neighborhoods. Thanks to all those celebrating the spirit of World Humanitarian Day for supporting them.
Original Article: Huffington Post